Welcome to Sacred Tattooing: A guide for Intention, Healing & Ritual in Tattoo art.
Join Ashley and Rachel as they guide tattoo artists/aspiring tattoo artists into the remembrance of the sacredness of tattooing, where tattoos are used as tools for healing & transformation.
Together, we have developed 8 modules of wisdom, guidance, tools and practices that we have found the most powerful in our own personal work as intuitive tattoo artists. We offer this guidance and information as a way for you to discover and deepen your own unique intuitive language, uncover your inner healing power to use in your art as a form of sacred medicine, while at the same time offering guidance to those receiving these sacred tattoos and how they can channel and master their own personal tattoo journey as a form of healing, transformation and connection to their souls true essence. 
Tattoos act as sacred talismans and hold such potent vibrational medicine that can create powerful, transformational shifts for the wearer. It is through the process of intention, connection to Spirit, magic and ritual that we can harness the true power of this ancient, sacred healing art, and use it to heal and and shift into deeper alignment with our purpose. Tattoos can act as a tool or catalyst for the wearer to become embodied in their true essence, and really open to receive what their soul is ready for, assisting them with their evolution—and we are here to guide others into remembering this power.
From the History of Tattooing in ancient times and its shamanic roots, we will take you on the journey of remembering the power of this work and why the time is now for this work to expand all over the world and become normalized. 
We offer you guidance and tools to create your own sacred space, work with and clear energy, and act as a channel to work with Spirit to bring through symbolic medicine for your client, and transform them into intentional tattoos. We will guide you into the importance of being a conscious space holder for your clients and go deep within the integration phase of the medicine and why it's so important to guide your clients through this process.
We will guide you through the different forms of psychic channeling and how you can tune in to your own unique intuitive language so that you may work with, strengthen and expand your intuitive power and use it confidently within your practice. We will remind you of the importance of simplicity and trust for your own intuition, and your own journey that is so unique to you, whilst addressing the importance of boundaries and protection that is so essential within this practice.
We will touch on sacred symbolism and the various medicine within tattoo art, as well as how to activate and harness potent energies within your work. We will guide you through our own personal sacred tattoo processes, so that you can move on from the course with inspiration and confidence to take into your own unique practice. And we will demonstrate how to be a conscious practitioner where sustainable practices can be achieved as we step away from a wasteful industry.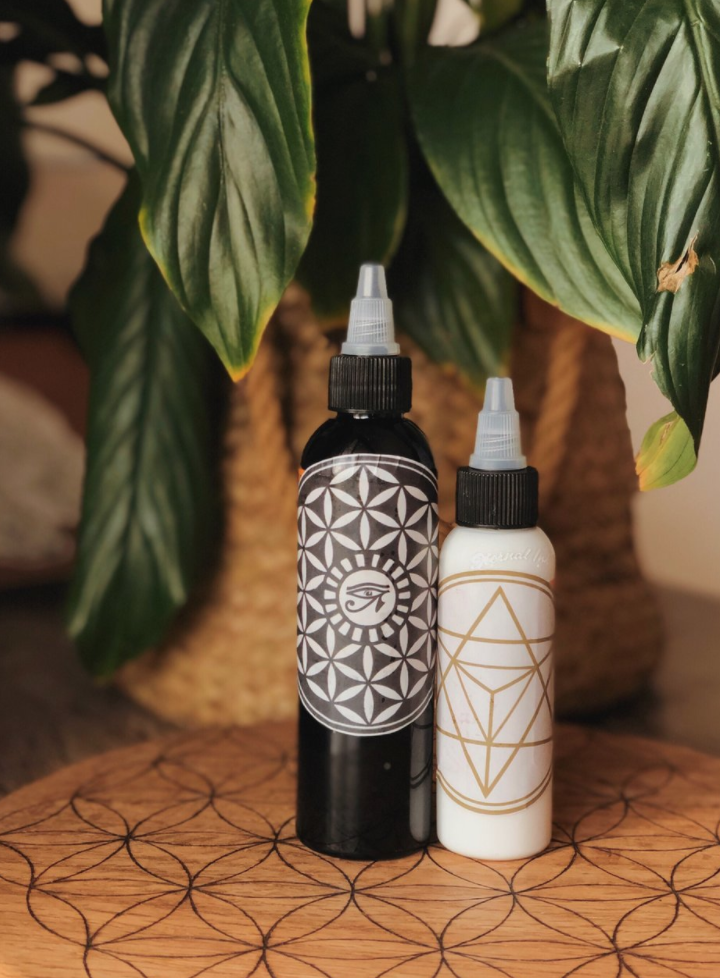 Each module will guide you towards greater confidence and trust so that you may step fully embodied into your purpose and follow the guidance towards your own work as an artist or receiver of tattoo medicine, and have support through our online course portal where we can all connect, share, evolve and inspire one another, as well as have opportunities for personal coaching.
We welcome you on this journey of self mastery, self discovery and awakening, for if you are reading this, you have heard the call and are ready to embark on a new journey into your hearts truest expression, and assist others in awakening theirs.
This course is aimed at but not limited to tattoo artists, artists, healers and those interested in becoming masters of their own personal tattoo journey. It is for those are wanting to expand and incorporate more purpose into their work, gain wisdom, knowledge and embody a deeper connection to their intuition.
Testimonials
"I am so grateful that the girls listened to their inspiration and created this course! It literally was a stepping stone for me to fully step into being an intuitive tattooist. I felt called to practice intuitive tattooing, but there wasn't much information out there about this topic and I was a bit confused how to start, etc, and then I found the course! It helped me to believe in myself, to stop feeling like I am doing a weird thing, and it gave me confidence to keep trusting the guidance I was receiving, and to trust the process. I think it is so beautiful that Rachel and Ashley created this course and shared their ways and wisdom. I am so grateful! Thanks to them I trusted and kept going, and now I can support other souls by serving this medicine."
- Dorota, Tattoo Artist
"The announcement of this course immediately made me feel excitement and joyful. Especially because I'm studying in an art academy and the part of channeling art and ideas has always fascinated me and I wish you could learn more about that in an art academy. This course brought me closer to my inner child; little creatures from the fairy world start appearing on my paper; drawings I used to suppress on the edges of notebooks would finally take space in the center of the paper, creating worlds that spoke in a language that my soul felt familiar. Learning to create the proper space and with the guidance of the course, I came closer to my own personal symbols that seemed to want to tell me something. Ashley and Rachel inspired me to trust how to connect in my own unique way to my creations."

-Stella, Intuitive Artist/Photographer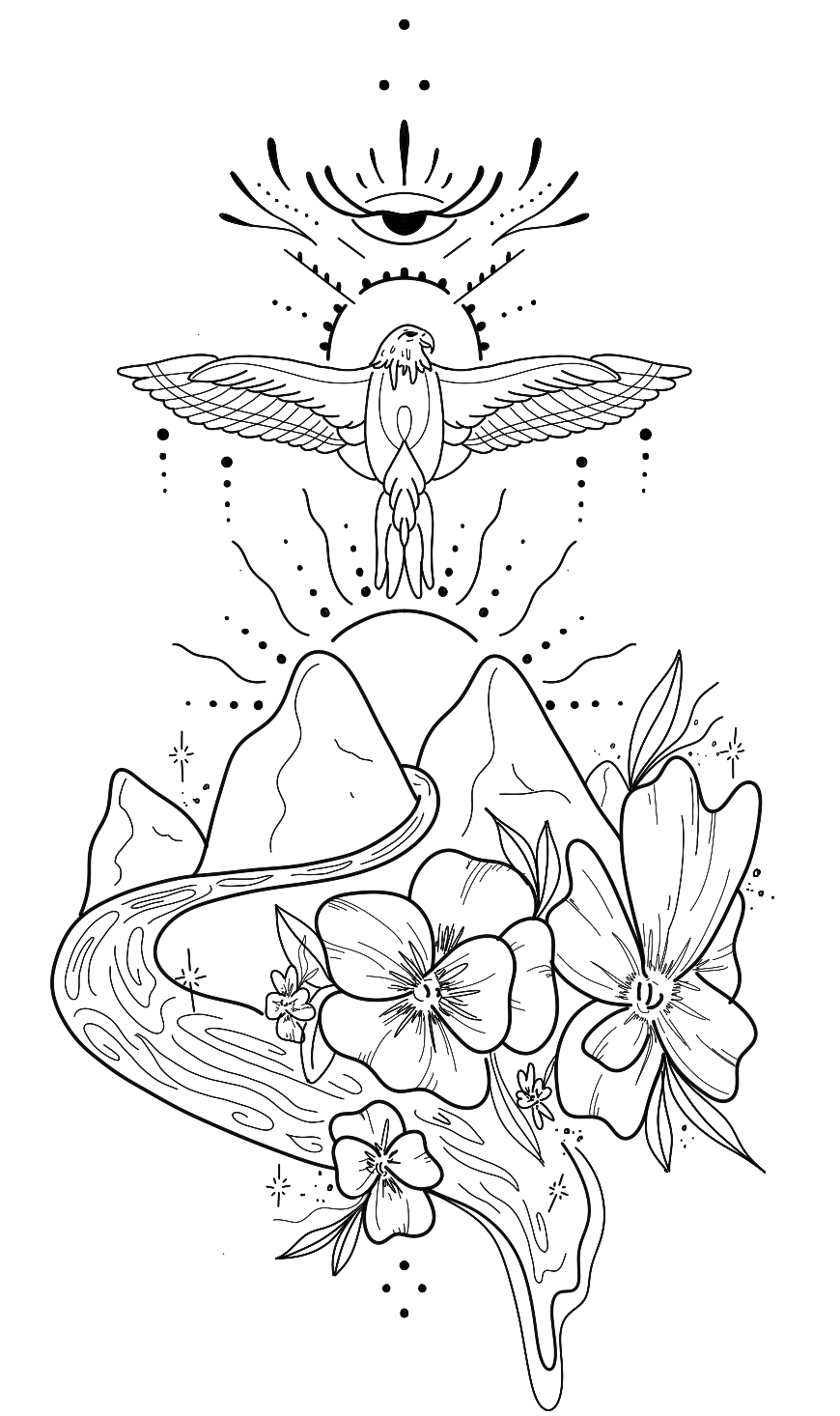 "I am not a tattoo artist but I started this course because I was creating an oracle card deck and wanted to learn to tap into the intuitive element of art. After finishing the course I was transformed and feel like I have unlocked something within me that I never knew existed. I'm now able to use the practices and knowledge provided by Ashley & Rachel to create art and symbolism guided by spirit. I would recommend this course to anyone wanting to tap into their intuitive senses and create art with soul. I didn't know what to expect from this course but now that I've finished, my heart is filled with so much gratitude. Thank you Ashley and Rachel for creating this course and letting us awaken to our creative potential. "
- Samantha, Intuitive Artist/Lightworker
"Sacred Tattooing is such a beautiful, eye-opening, and immensely helpful course. I had been feeling a pull for several years to offer something more when tattooing, but was having a hard time untangling it in my mind. I came across Ashley and Rachel's course on intuitive tattooing and it felt like coming home. It all made so much sense and is laid out in a format that is intuitive and easy to follow. I am beyond grateful to them for sharing their knowledge in a way that allows others to begin to offer this beautiful practice."
-Noelle Marie, Tattoo Artist
Course Outline
MODULE ONE: WELCOME
Preparations, the history of tattooing, and setting your intentions for this course.
MODULE TWO: SETTING SACRED SPACE
The importance of creating sacred space, energy clearing, tools for space clearing, grounding & the art of altar building.
MODULE THREE: MINDFUL CONNECTION 
Mindful connection with your clients, sacred space holding & mirror work.
MODULE FOUR: OPENING TO YOUR INTUITIVE GIFTS
Intuition, understanding psychic abilities, getting to know your channels, using your gifts in your tattoo practice, tools for strengthening intuition & cultivating self-trust.
MODULE FIVE: CREATING WITH SPIRIT
Bringing through art with intention, sacred symbolism, & developing your own intuitive language.
MODULE SIX: TATTOOING AS HEALING 
Sacred talismans, activating vibrational art, tattoo placements, & energy healing.
MODULE SEVEN: TOOLS FOR TATTOOING 
Conscious supplies, plant medicine, activating inks, types of tattooing, licensing & care.
MODULE EIGHT: CLOSING 
Resources, getting licensed, self-care, creating your ritual formula & beginning your sacred tattoo art practice.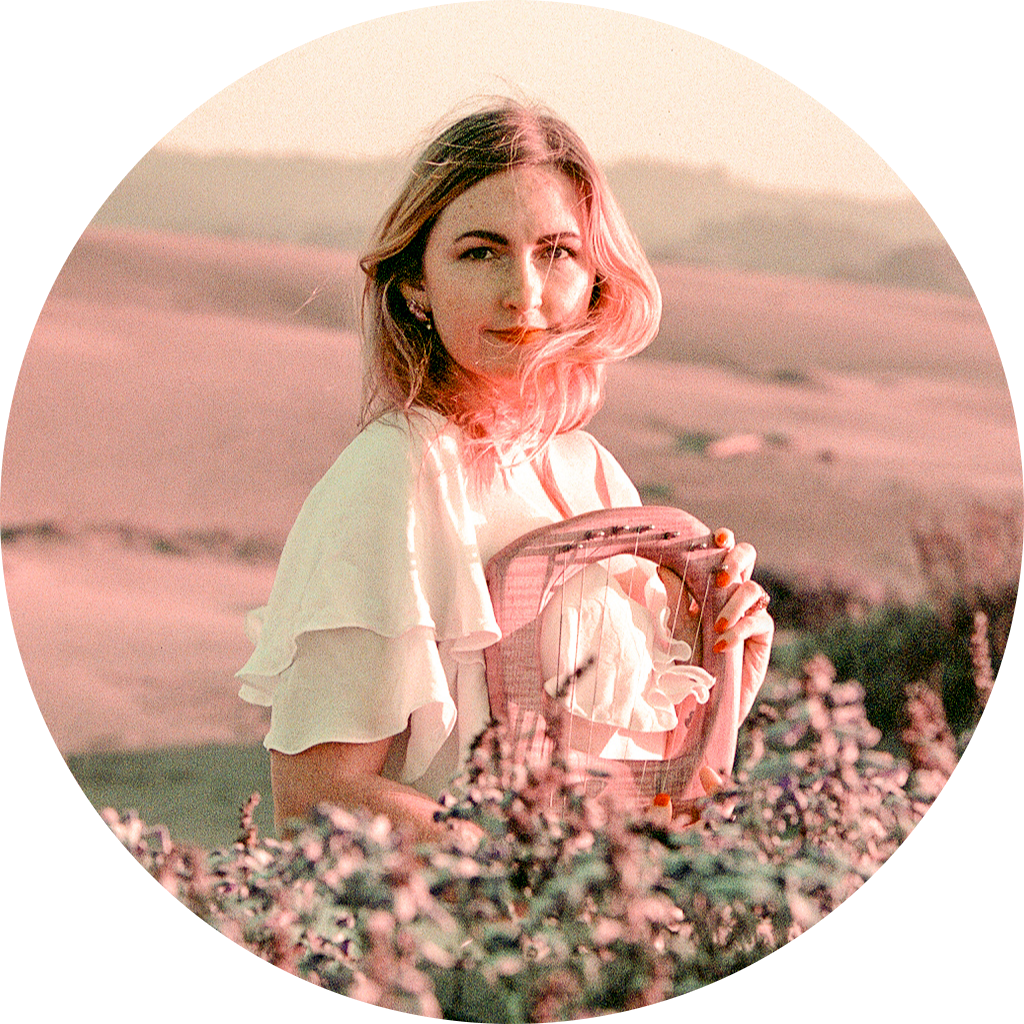 Ashley is a multidimensional artist, mystic, author, and creative guide based in Santa Fe, New Mexico. Ashley is most known for her intuitive, ceremonial tattoo modality, Soul Tattoo®, which garnered a multi-year waitlist with residencies from New York to New Zealand. As a bridge between worlds, Ashley and her Soul Tattoo® Sessions alchemize powerful transformation through an intimate, safe, gentle, specially curated healing experience of ceremonial tattooing that is unique to each individual's intentions, needs, and authentic soul expression, as collaboration between Ashley, the client, and Spirit. In 2020 Ashley published her first book with Sounds True, Tending to the Sacred: Rituals to Connect with Earth, Spirit, and Self, as well as her oracle deck, Messages from the Heart of the Divine. Ashley's passion is leading others to remember their true nature, honor the feminine, dream expansively, and create courageously. As of fall of 2020 Ashley leads a monthly online program called Bloom, supporting women to liberate their creative nature and birth their most wildest dreams, from seed to bloom. For more visit ashleyriverbrant.love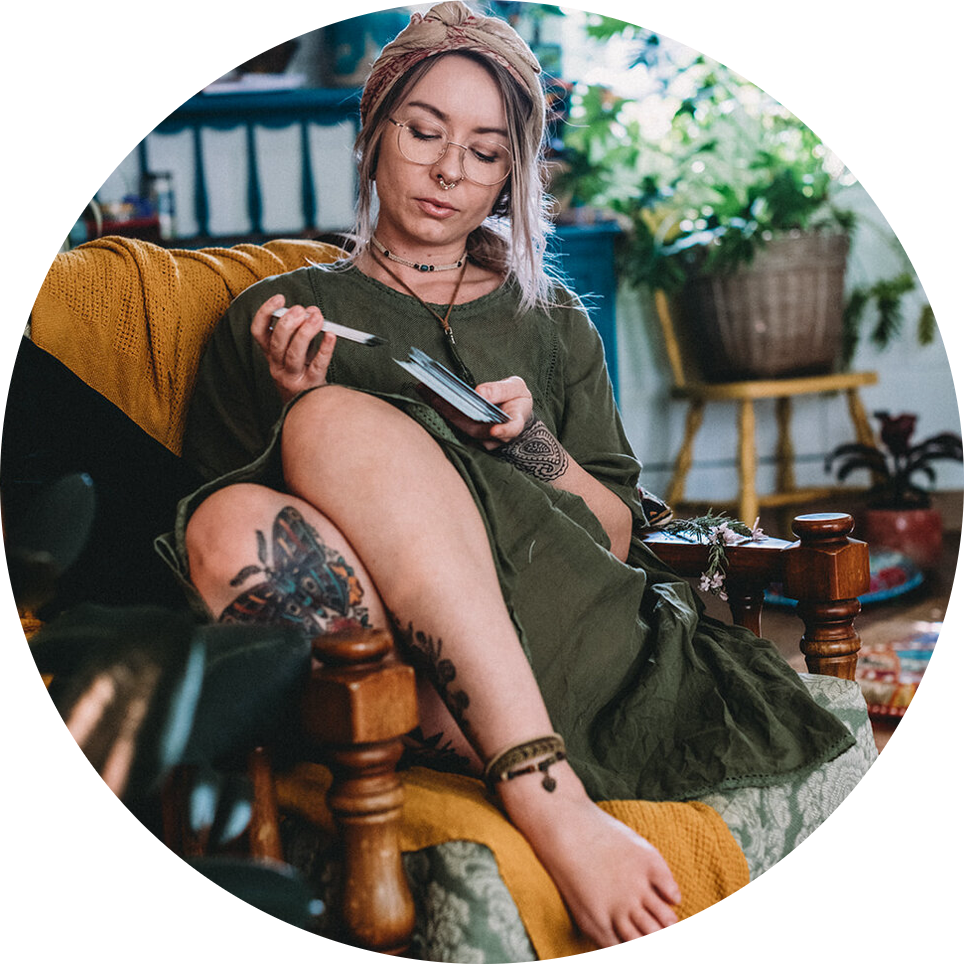 Rachel Christensen
Rachel is an intuitive tattoo artist, energy worker and owner of Chrysalis Tattoo Alchemy which lies on the lush landscapes of the Sunshine Coast, Australia. Rachel explores the diversity of spiritual transformation through her passion of practicing and acquiring knowledge in many different healing modalities, incorporating them into her own unique and intuitive practice as a tattoo artist, and within her day to day life. Through energy healing, vibrational medicine, sound healing, drum journeying and intuition, Rachel unites her healing work with intention, ritual and ceremony, bringing them into her tattoo sessions and using tattoos as a form of healing, spiritual transformation and soul alignment. Through her intuitive connection to Spirit, Rachel's evolving tattoo work is often channelled for her clients based on their own unique personal energy signature, tailored with guidance and medicine from the elements and symbols within each piece, and activated with intentions that come through for each client. The elements focus strongly on the connection to healing botanicals, medicine plants, crystals, animals, and sacred symbolism. It is an alchemical process that acts as a sacred talisman, symbol and tool for transformation for thewearer, assisting them with the embodiment of their souls true essence, and supporting them on their own personal evolution and ascension.
F A Q
Who Is This Course For?
This course is aimed at but not limited to tattoo artists, artists and those who aspire to be either. It is aimed at artists wanting to expand and incorporate more sacred connection and purpose into their work, gain wisdom, knowledge and embody a deeper connection to their intuition, medicine as an artist, and tattooing as a sacred art form.
How Do I Take This Course?
We have curated this course so that you have freedom to complete it at your own pace, in your own time. Before beginning you should have your own journal specifically for this course, so that you may take notes, write your own intentions, and document your practices along the way. It's going to be really beautiful to witness your journey evolve since this course, and will be an amazing keepsake to look back on in years to come. The course is outlined very simply and straight forward. You will explore the information provided, taking your own notes along the way, and completing any practices, meditations, and homework in relation to the module. We wouldn't suggest doing more than one module in a day, especially those that involve some extensive homework and energy work, as doing energy work often requires integration periods, which can take days or weeks to fully integrate, so be gentle with yourself and don't rush. Listen to your body's needs along the way, and don't hesitate to re-read sections, or repeat homework over and over. 
Will I Learn The Methods Of Practice And Sanitation To Perform Tattooing On Others?
The course does not cover the step-by-step hows of tattooing, and is not for anyone just wanting to learn how to tattoo. We are journeying deep into the innate wells of wisdom within, creating space to open to vast creative potential, learning how to hold healing space for others, and guiding to each find our own unique medicine as artists. This course will give you all the tools, inspiration and wisdom you need to take the next steps in becoming a fully licensed sacred tattoo artist, but your license is handed to you by your government and requires different classes depending on your location. 
Can I Take This Course If I Do Not Have Prior Tattoo Experience?
You do not need to be a licensed tattoo artist to take this course. You don't even need to be an aspiring tattoo artist! While the focus is on tattooing, you can apply the course content to any creative endeavor or simply your own self-development as an intuitive, creative being, or even a receiver of tattoo art! We just strongly recommend anyone wishing to start their own tattoo practice to follow the steps to legally obtain their tattoo license in their location of practice (we touch on this more in the final module). Tattooing is a minor surgery and should be practiced in a safe, legal, mindful way way for the protection of both the artist and their clients.